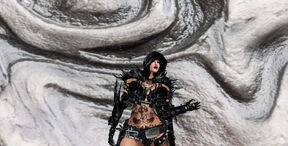 Thank you for checking me out, I am pretty laid back and a very good listener. I can be your best friend, but once crossed, your worst enemy. There is a dark side, and I will take you to it. I give no reason for malice, neither should you.
The Goddess--Mother and Protector of All
Edit
You will never have to worry about being harmed if I become your leige. You will always be safe, always be guarded, forever protected. This protection comes with a price, never cross me, never harm another family member, never try to destroy the family. You will feel the wrath and bear the malice as consequence of doing so. I am your Goddess, I am The Mother, I am the Protector of All...
Ex Vita Un Nex Clan
Edit
:D Long live the sock puppets! From Life to Death! We rise.