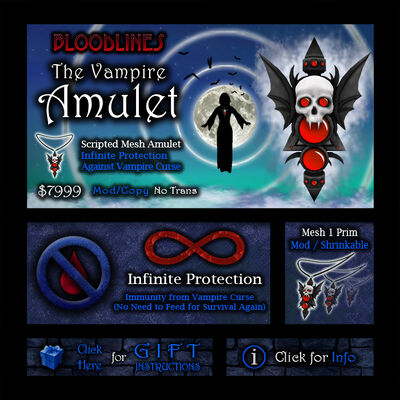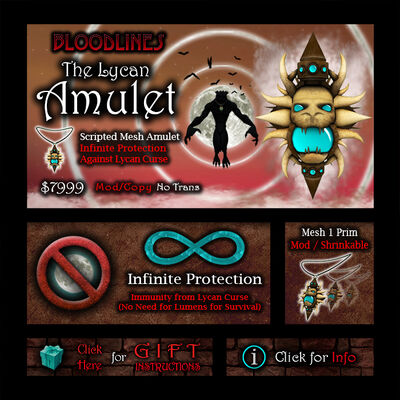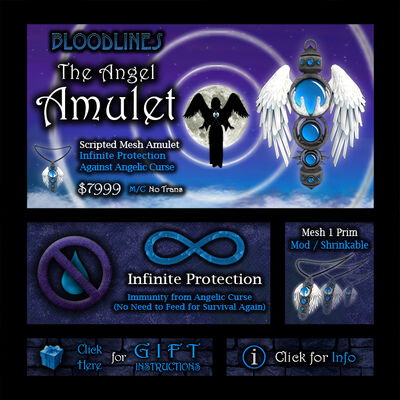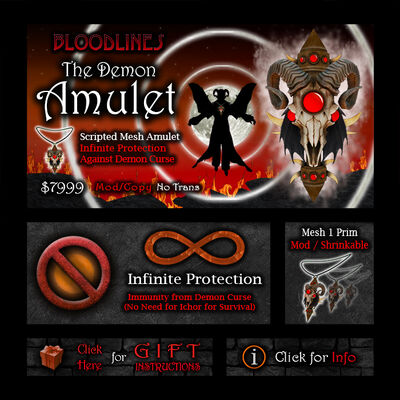 If you have been turned into a Vampire, Lycan, Angel, or Demon, you will suffer a nightly Curse that takes the metrics associated with your race.
The Amulet protects its wearer from the effects of The Curse. Any type of amulet will prevent the Curse entirely, meaning that any type of amulet prevents the curse for all races. The amulets come in increments of protection of 5 days, 14 days, 30 days, and endless protection. Once the Amulet's power has expired, you will keep the object itself, but The Curse will resume exacting its daily toll of metric from your system. The Amulet need not be worn constantly to take effect. Once rezzed or worn, its effects will begin to work and the piece itself can be put back into your inventory.
1 Amulet - 5 Day - Chest attachment
1 Set Instructions
1 LM to Bloodlines Store Sim
WEARING YOUR AMULET
Edit
Included in the box is your Amulet attachment. It may not fit your avatar right out of the box. If you need help with editing attachments, see the FAQ below.
To attach your Amulet, simply right-click and choose "wear". If you attach the Amulet to anywhere other than your chest, it will take extra editing to get it to look right.
FREQUENTLY ASKED QUESTIONS
Edit
Q. MY AMULET DOESN'T FIT RIGHT. WHAT DO I DO?
A. You can either wear the prim item or rez it on the ground, then right-click it and choose 'edit'. It's probably easiest to edit you edit while wearing it, and then stand on a pose stand. We've included a free pose stand which you can rez in an area that allows you to create objects. Once you rez it, right-click and choose 'sit', then right-click your atttachment and choose "edit". From within the pop-up edit menu you can shrink and move your attachment to best fit you. If you do not know how to edit/resize prims, please refer to one of the many useful resources / tutorials in the forums or in-world regarding editing items.
Community content is available under
CC-BY-SA
unless otherwise noted.